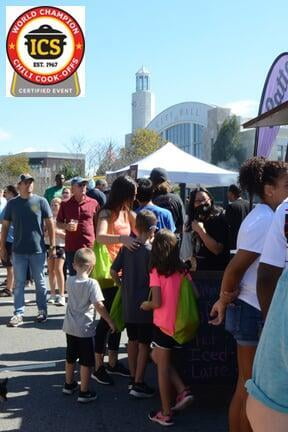 Welcome to the 2nd Annual Suwanee Chili Cook Off & Music Festival. This event is a fundraiser for Project Green, a local children's non-profit that helps sponsor children to summer camps, school excursions and other educational programs that are available to help shape the minds of our kids for a brighter tomorrow.



The Suwanee Chili Cook-Off & Music Festival is a fun family friendly community festival featuring a Chili Cook-Off with Chili Sampling, People's Choice awards plus judged chili competition for Best Traditional Red and Homestyle Chili. The Suwanee Chili Cook-Off is an official ICS certified Cook-Off (only one in the Atlanta area) which means top winner from each category PLUS People's Choice Winner will all received a certified cook-off certificate from ICS and an automatic qualification with paid entry into the World Open Chili Challenge (amateur division) at the WCCC.

In addition to the Chili Tasting, the festival will host local and regional vendors, an artist market, a Family Fun Zone with activities for children of all ages, Food Trucks for the non-chili enthusiasts and LIVE music from local & regional bands. The Suwanee Chili Cook Of is FREE to attend for all. Participation in the People's Choice and Chili Tasting will require a sampling armband which will be available at the event the day of the event and in advance online.

Your don't have to be a professional Chef to compete! We are looking for Amateur Chefs , Police Stations, Fire Stations, Teams and Junior Cooks to compete in the event. This is a great Team Building event with bragging rights for the winners!!!

SIGN UP TODA

Y
!!!
Ready to be a Vendor, Sponsor? Ready to compete as a Chili Contestant?
To be a Vendor, Sponsor or a Chili Cook Off Competitor or for more information about the event, contact:
Kim Condrick at Kim@AliveExpo.com or call 770-806-7492

Vendor & Artist Market Booths

In addition to the Chili Cook Off, the festival will host local and regional Vendors, Artists and Non-Profits.

Join Us and be part of this great community event!

Want to be a vendor or sponsor? Contact us today about space availability or to sign up! Send us an email, call us or fill out the Contact Form today to get more information!

Live Music

The Suwanee Chili Cook Off and Music Festival features live music from local Atlanta based musicians as well as up and coming musicians from all over the USA and even Europe. We have partnered with All Right Now Entertainment to manage and procure all musical acts for the event!

The 2023 Chili Cook-Off Live Music Line Up will be announced soon!

A Big Thank You to ALL the Bands that perform for us! The Foundation is forever grateful for your love and support!